2 Patented Platforms
At Iasis Molecular Sciences, we are focused on developing the next generation of antimicrobial, antifungal and antiviral surfaces. Our approach allows for the creation of compositions with remarkable efficacy against bacteria, fungi, and viruses. Applications for these composites include medical devices, architectural surfaces and coatings, food packaging, textiles, and consumer goods. Our focus area is the development of next generation genitourinary devices. Funding from the Congressionally Directed Medical Research Program (CRMRP) has allowed us to develop a next generation Foley catheter and ureteral stent biomaterial that has been shown to be highly effective at preventing biofilm infection.
Commercial antimicrobial coatings are inadequate due to the deficiency of the available compound present in the coating. This led to our focus on developing antimicrobial composite materials thus enabling the device to become the reservoir for an antimicrobial ion of interest.
We have a family of antimicrobial additives for our exploitation.  The picture [inset] displays a few examples of our Platform No. 2 additives.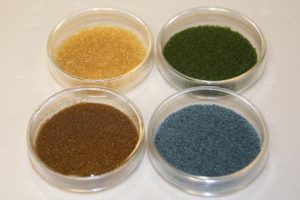 Our pipeline includes the following antimicrobial products from our two platforms:
Tubing (Food & Medical Industry)
Powder Coatings, Epoxies & Paints
Endotracheal Tube
Foley/Suprapubic Catheter
Ureteral Stent
Urine Drainage Bag
Advanced Wound Dressings